Posts for tag: gum disease
By Largeman Dental
June 30, 2018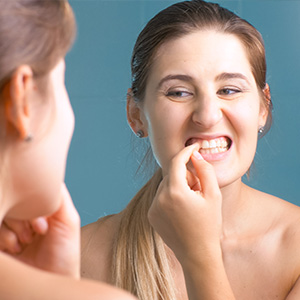 It takes only a few days of inadequate oral hygiene for bacterial plaque to trigger the periodontal (gum) disease gingivitis. Though sometimes subtle, there are signs to watch for like inflamed, reddened or bleeding gums.
Untreated gingivitis can develop into more advanced forms of gum disease that infect deeper levels of the gums and supporting bone and ultimately cause bone and tooth loss. Fortunately, though, prompt treatment by a dentist removing plaque from teeth and gums, along with you reinstituting daily brushing and flossing, can stop gingivitis and help restore health to your gums.
If you're under acute stress or anxiety, however, basic gingivitis can develop into something much more serious and painful, a condition called Acute Necrotizing Ulcerative Gingivitis (ANUG). It's also known as "trench mouth" from its common occurrence among World War I soldiers experiencing stressful periods in front line trenches without the means for proper oral hygiene.
ANUG develops from a "perfect storm" of conditions: besides anxiety and deficient hygiene practices, ANUG has a high occurrence risk in people who smoke (which dries the mouth and changes the normal populations of oral bacteria) or have issues with general health or nutrition.
In contrast to many cases of basic gingivitis, ANUG can produce highly noticeable symptoms. The gum tissues begin to die and become ulcerative and yellowish in appearance. This can create very bad breath and taste along with extreme gum pain.
The good news is ANUG can be treated and completely reversed if caught early. In addition to plaque removal, the dentist or periodontist (a specialist in the treatment of gum disease) may prescribe antibiotics along with an antibacterial mouthrinse to reduce bacteria levels in the mouth. A person with ANUG may also need pain relief, usually with over-the-counter drugs like aspirin or ibuprofen.
It's important that you seek treatment as soon as possible if you suspect you have ANUG or any gum disease. It's possible to lose tissue, particularly the papillae (the small triangle of tissue between teeth), which can have an adverse effect on your appearance. You can also reduce your risk by quitting smoking, addressing any stress issues, and practicing diligent, daily oral hygiene and visiting your dentist for cleanings and checkups twice a year or more if needed.
If you would like more information on the signs and treatments for gum disease, please contact us or schedule an appointment for a consultation. You can also learn more about this topic by reading the Dear Doctor magazine article "Painful Gums in Teens & Adults."
By Largeman Dental
September 27, 2017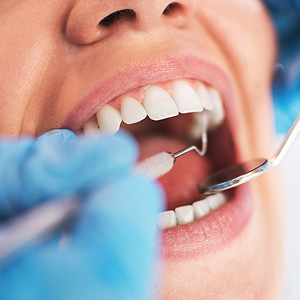 It's National Gum Care Month. Let's a moment to talk about why it's so important to take care of your gums.
Gum disease affects almost half of adults over age 30 and approximately 70 percent of adults over age 65. The first stage of gum disease is called gingivitis, an inflammation of the gums. With gingivitis, gums can be red and puffy, and bleed easily when brushing or flossing. If gingivitis is not treated, it can progress to periodontitis, where the structures supporting the teeth, including the bone, begin to break down and be lost. Advanced stages of gum disease can lead to tooth loss and general health problems.
The good news is that gum disease is treatable — and early gum disease is even reversible. So what can you do to take care of your gums?
Be diligent about your oral hygiene routine at home: Your first line of defense is your oral hygiene routine at home. Brush your teeth gently morning and night, using a soft toothbrush and fluoride toothpaste. Brushing too vigorously can harm your gums and cause them to recede. It is also important to floss every day to dislodge plaque that can build up between the teeth and around the gum line.
Come in for professional dental cleanings and exams: Schedule regular professional cleanings to remove the plaque that is hard to reach. If plaque is not removed, it can harden to form tartar (or "calculus"). Only professional cleanings with special dental tools can remove tartar. When plaque and tartar form below the gum line, your bone that supports the teeth may be at risk. We can examine your mouth above and below the gum line to detect and monitor any signs of gum disease and recommend appropriate treatments.
We are always happy to talk with you about how to maintain the health of your gums. Remember that early gum disease is very treatable, so take care of your gums, and they'll take care of you!
You can learn more about gum health in the Dear Doctor magazine article "Daily Oral Hygiene."
By Largeman Dental
August 28, 2017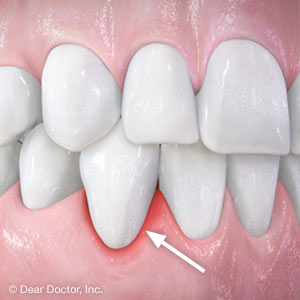 Teeth-replacing dental implants not only look life-like, they're made to last. For one thing, the metals and dental materials used in them are impervious to bacterial infection.
But that doesn't mean implants are impervious to failure. Implants depend on the bone and other natural mouth structures for support. If the bone becomes weakened due to disease, the implant could become unstable and ultimately fail.
Peri-implantitis, the condition that can lead to this kind of failure, is a major concern for implant longevity. It's a type of periodontal (gum) disease triggered by plaque, a thin film of food particles that can build up quickly in the absence of adequate brushing and flossing. The gum tissues around the implant become infected and inflamed.
If the infection isn't properly treated with renewed oral hygiene and clinical plaque removal, it could spread below the gum line and begin to damage the underlying gum tissues and bone. This could destroy the all-important connection between the titanium implant post and the bone. The implant could eventually loosen and become completely detached from the bone.
The key is early intervention before the bone becomes damaged. Besides plaque removal we may also need to apply antibiotics in some form to control the growth of disease-causing bacteria. If the disease has fairly advanced we may also need to consider surgical repair to strengthen the attachment between implant and bone.
You can help to avoid peri-implantitis altogether by practicing consistent daily brushing and flossing around all your teeth including the implant, and seeing your dentist at least twice a year for cleanings and checkups. And by all means see your dentist if you notice any signs of gum swelling, redness or bleeding. Staying on top of your gum health will help not only the natural tissues and remaining teeth in your mouth, it will help preserve your implants for decades to come.
If you would like more information on maintaining your dental implants, please contact us or schedule an appointment for a consultation.