Posts for tag: root canal treatment
By Largeman Dental
January 26, 2021

Dental patients have amazing options for tooth replacement. Dental implants, for example, can replace the entire tooth, root and crown, giving patients a new tooth nearly as good as the old one.
Nearly—but not exact. Even implants can't match the full benefits of a natural tooth, including one in less than perfect shape. Our first goal as dentists, then, is to save a diseased tooth if at all practical before considering replacing it.
That often involves a root canal treatment to address decay threatening a tooth's interior. The procedure requires drilling into the tooth to access its innermost pulp, cleaning out the pulp and root canals, and then filling the empty spaces. Since all dentists are trained in basic root canal treatment, your general dentist may be able to perform it.
But some dental situations call for more advanced endodontics, the dental specialty for treating disease and other problems inside a tooth. So, in what situations would you see an endodontist?
When your dentist refers you. Your dentist wants you to receive the level of treatment necessary to save your tooth. After examination, they may determine your situation would be better served by the advanced training, equipment and techniques (including surgery) of an endodontist.
When your tooth has complications. Patients often need an endodontist when existing factors complicate treatment of advanced tooth decay. A patient may have dental pain that's difficult to pinpoint, requiring the diagnostic resources of an endodontist. It's also common for a tooth's root canal network to be highly intricate, and which respond better to treatment with specialized endodontic tools and techniques.
When root canal treatment fails. Most root canal treatments are successful in protecting the tooth from further infection. That said, it's still possible for a root-canaled tooth to become re-infected or develop more problems. Again, an endodontist and their "tool chest" re-treating a root-canaled tooth may be the best option for saving it.
You also don't have to wait for a referral—you can see an endodontist if you believe they would be best to treat your decayed tooth. You can find one near you by visiting an online endodontist directory at www.aae.org/find. An endodontist may be the lifesaver your diseased tooth needs.
If you would like more information on saving a tooth through endodontic treatment, please contact us or schedule an appointment for a consultation.
By Largeman Dental
October 03, 2019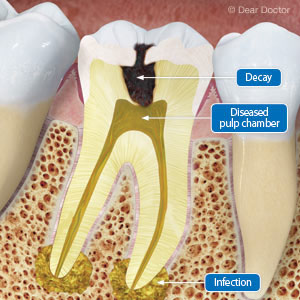 Root canal treatments have suffered a bad rap over the years—and undeservedly. While we applaud root canal therapy for the millions of decayed teeth the procedure has saved, the worn-out cliché that it's painful still lingers on.
So, let's set the record straight: a root canal treatment doesn't cause pain, it most often relieves it. Let's look a little closer at what actually happens before, during and after this tooth-saving treatment.
Before: a tooth in crisis. Tooth decay can damage more than a tooth's outer enamel. This aggressive bacterial infection can work its way into a tooth's interior, destroying the nerves and blood vessels in the pulp, before moving on to the roots and supporting bone through the root canals. Untreated, this devastating process can lead to tooth loss. A root canal treatment, however, can stop the invading decay and save the tooth.
During: stopping the disease. The dentist first numbs the tooth and surrounding gum tissues with local anesthetic—the only thing you might normally feel during treatment is a slight pressure. They then drill into the tooth to access the inner pulp and root canals and remove all diseased tissue. Once the interior spaces of the tooth have been disinfected, the dentist then fills the empty pulp chamber and root canals with a pliable filling called gutta percha to prevent future infection.
After: preventing re-infection. With the filling complete, the dentist then seals the access hole. There may be some minor soreness for a few days, similar to the aftermath of a routine filling, which can usually be managed with over-the-counter pain relievers like ibuprofen. Sometime later, the dentist will normally finish the treatment with a new crown on the tooth. This accomplishes two things: It helps strengthen the tooth against stress fracturing and it provides another layer of protection against future decay.
Root canal treatments have an exceptional track record for giving diseased teeth a second chance. There's nothing to fear—and everything to gain for your troubled tooth.
If you would like more information on root canal treatment, please contact us or schedule an appointment for a consultation. You can also learn more about this topic by reading the Dear Doctor magazine article "Root Canal Treatment: What You Need to Know."
By Largeman Dental
August 05, 2017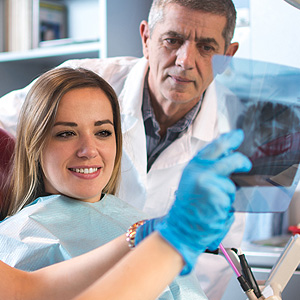 You've recently learned one of your teeth needs a root canal treatment. It's absolutely necessary: for example, if you have decay present, it will continue to go deeper within the tooth and it will spread to the roots and bone and could ultimately cause you to lose your tooth. Although you're a little nervous, we can assure you that if we've recommended a root canal treatment, it's the right step to take for your dental health.
There's nothing mysterious — or ominous — about a root canal. To help ease any fears you may have, here's a step-by-step description of the procedure.
Step 1: Preparing your mouth and tooth. We first take care of one of the biggest misconceptions about root canals: that they're painful. We completely numb the tooth and surrounding tissues with local anesthesia to ensure you will be comfortable during the procedure. We isolate the affected tooth with a thin sheet of rubber or vinyl called a rubber dam to create a sterile environment while we work on the tooth. We then access the inside of the tooth — the pulp and root canals — by drilling a small hole through the biting surface if it's a back tooth or through the rear surface if it's in the front.
Step 2: Cleaning, shaping and filling the tooth. Once we've gained access we'll clear out all of the dead or dying tissue from the pulp and root canals, and then cleanse the empty chamber and canals thoroughly with antiseptic and antibacterial solutions. Once we've cleaned everything out, we'll shape the walls of the tiny root canals to better accommodate a filling material called gutta-percha, which we then use to fill the canals and pulp chamber.
Step 3: Sealing the tooth from re-infection. Once we complete the filling, we'll seal the access hole and temporarily close the tooth with another filling. Later, we'll install a permanent crown that will give the tooth extra protection against another infection, as well as restore the tooth's appearance.
You may experience some mild discomfort for a few days after a root canal, which is usually manageable with aspirin or ibuprofen. In a week or so, you'll hardly notice anything — and the tooth-threatening decay and any toothache it may have caused will be a distant memory.
If you would like more information on root canal treatments, please contact us or schedule an appointment for a consultation. You can also learn more about this topic by reading the Dear Doctor magazine article "A Step-by-Step Guide to Root Canal Treatment."