Posts for: May, 2019
By Largeman Dental
May 16, 2019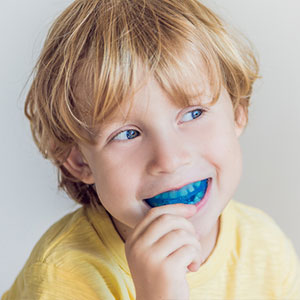 As spring weather heats up, so do a lot of outdoor sports like baseball or soccer. Unfortunately, the chances of sports-related injuries increase as well. Your child's mouth in particular is a prime target for injury—and you need to be prepared.
First and foremost, players should wear a mouthguard during contact sports to reduce their risk of injury. Mouthguards can absorb much of the force generated during impact—and may make the difference between minor bruising and a fractured or knocked-out tooth.
"Boil and bite" mouthguards available from the local pharmacy or sporting goods store are popular because of their cost and availability. These are softened in hot water before the wearer bites down to create a semi-customized fit. An even better option, though, is a custom mouthguard that is made from a precise impression of your child's teeth that we take in our office. This type of mouthguard costs more, but it provides greater protection and comfort than one from your corner store.
A mouthguard can significantly reduce the risk of injury but won't eliminate it entirely. If a dental injury does occur, you need to know what to do. This will depend mainly on the type of injury: If the tooth is chipped but not pushed out of position, you can collect any tooth fragments and see us within 12 hours for an examination and possible repairs. If the tooth has moved or is loose, you should see us even sooner—within 6 hours so we can readjust the tooth and, if needed, splint it until it is securely reattached.
A more serious injury is a tooth that has been knocked completely out of its socket. It can often be saved, but you'll need to act quickly—optimally, within 5 minutes—by reinserting the tooth in its socket. Although it sounds daunting, it's really a matter of a few simple steps: First, find the tooth and rinse off any debris with clean water. Holding it by the crown (the visible part you are used to seeing) insert the root end into the empty socket. If your placement isn't "just right," don't worry; we can adjust it later, but it will require some pressure to place it in the socket. Have the person bite down on a piece of gauze or clean cloth to hold the tooth in place. Call us immediately. If you cannot reach us, go to an emergency room.
Quick action and prompt follow-up dental care after a mouth injury increase the chance of a happy outcome. Along with proper mouthguard protection, remembering these pointers will help ensure that your family has an enjoyable sports season this year!
If you would like more information about sports-related dental injuries, please contact us or schedule an appointment for a consultation. To learn more, read the Dear Doctor magazine articles "Athletic Mouthguards" and "The Field-Side Guide to Dental Injuries."
By Largeman Dental
May 06, 2019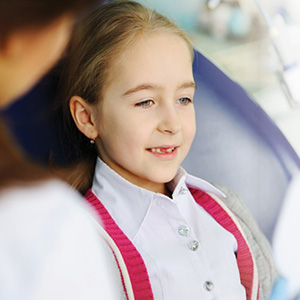 The longer many health problems go on, the worse they become. Treating them as early as possible could stop or slow their development.
That holds true for poor bites: while we can certainly correct them later in life, it's often better to "intercept" the problem during childhood. Interceptive orthodontics attempts to do this with treatments that influence how the jaws and other mouth structures develop during childhood. Many of these techniques are usually best implemented before puberty.
For example, some very complex problems called cross bites can occur if the upper jaw grows too narrowly. We might be able to stop this from happening by using an orthodontic appliance called a palatal expander during the childhood years. It works because the bone at the center of the palate (roof of the mouth) has a gap running back to front until the early teens when the gap closes.
We fit the palatal expander up under and against the palate, then extend out metal arms from a center mechanism to the back of the upper teeth that exert outward pressure on them. This widens the center gap, which the body continually fills with bone as the device gradually exerts more pressure. Over time this causes the jaw to widen and lessens the cross bite. Timing, though, is everything: it's most effective before the gap closes.
Another way to aid jaw growth is a Herbst appliance, a hinged device that alters the movement of the jaws. As a child wears it, a Herbst appliance draws the lower jaw forward to develop more in that direction. Like the palatal expander, it's best used before significant jaw growth occurs.
These are just two examples of techniques and tools that can guide structural growth and prevent bite problems. Because they're most effective in the early years of oral development, your child should undergo an orthodontic evaluation as early as age 6 to see if they need and can benefit from an interceptive treatment.
Interceptive orthodontics can stop or at least slow a growing bite problem. The effort and expense now could save you much more of both later on.
If you would like more information on interceptive orthodontics, please contact us or schedule an appointment for a consultation. You can also learn more about this topic by reading the Dear Doctor magazine article "Interceptive Orthodontics: Timely Intervention can make Treatment Easier."