Posts for: February, 2018
By Largeman Dental
February 17, 2018
February marks National Children's Dental Health Month. It's important for children to form daily oral hygiene habits early, but how do you get little ones to take care of their teeth? Try these tips:
Describe your actions. When children are too young to brush on their own, gently brush their teeth for them, narrating as you go so they learn what toothbrushing entails. For example, "Brush, brush, brush, but not too hard," or "Smile big. Let's get the front teeth. Now let's get the teeth in the very back."
Make learning fun. Around age 3, children can start learning to brush their own teeth. To model proper technique, play follow the leader as you and your child brush teeth side by side, making sure to get all tooth surfaces. Then you both can swish and spit. After brushing together, brush your child's teeth again to make sure hard-to-reach surfaces are clean. Note that children generally need help brushing until at least age 6.
Encourage ownership and pride. Children feel more invested in their oral health when they get to pick out their own supplies, such as a toothbrush with their favorite character and toothpaste in a kid-friendly flavor. To boost pride in a job well done, reward your child with a sticker or star after they brush their teeth.
Keep your child brushing for two minutes. According to the American Dental Association, toothbrushing should be a two-minute task. To pass the time, play a favorite song or download a tooth-brushing app designed to keep kids brushing the recommended two minutes. For increased motivation, electric toothbrushes for children often have a built-in two-minute timer as well as appealing characters, lights and sounds.
And don't forget one more key to a lifetime of good oral health—regular dental visits. If you have questions about your child's dental hygiene or if it's time to schedule a dental visit, please contact our office. To learn more, read the Dear Doctor magazine articles "Dentistry & Oral Health for Children" and "Top 10 Oral Health Tips for Children."
By Largeman Dental
February 02, 2018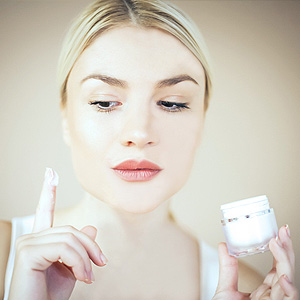 The red, scaly rash suddenly appearing on your face doesn't cause you much physical discomfort, but it's still embarrassing. And to make matters worse treating it as you would other skin ailments seems to make it worse.
Your ailment might be a particular skin condition known as peri-oral dermatitis. Although its overall occurrence is fairly low (1% or less of the population worldwide) it seems to be more prevalent in industrialized countries like the United States, predominantly among women ages 20-45.
Peri-oral dermatitis can appear on the skin as a rash of small red bumps, pimples or blisters. You usually don't feel anything but some patients can have occasional stinging, itching or burning sensations. It's often misidentified as other types of skin rashes, which can be an issue when it comes to treatment.
Steroid-based ointments that work well with other skin ailments could have the opposite effect with peri-oral dermatitis. If you're using that kind of cream out of your medicine cabinet, your rash may look better initially because the steroid constricts the tiny blood vessels in the skin. But the reduction in redness won't last as the steroid tends to suppress the skin's natural healing capacity with continued use.
The best treatment for peri-oral dermatitis is to first stop using any topical steroid ointments, including other-the-counter hydrocortisone, and any other medications, lotions or creams on it. Instead, wash your skin with a mild soap. Although the rash may flare up initially, it should begin to subside after a few days.
A physician can further treat it with antibiotic lotions typically containing Clindamycin or Metronidazole, or a non-prescription, anti-itch lotion for a less severe case. For many this clears up the condition long-term, but there's always the possibility of relapse. A repeat of this treatment is usually effective.
Tell your dentist if you have recurring bouts of a rash that match these descriptions. More than likely you'll be referred to a dermatologist for treatment. With the right attention—and avoiding the wrong treatment ointment—you'll be able to say goodbye to this annoying and embarrassing rash.
If you would like more information on peri-oral dermatitis, please contact us or schedule an appointment for a consultation.