Posts for: January, 2018
By Largeman Dental
January 18, 2018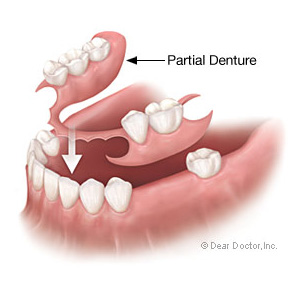 Dental implants are today's preferred choice for replacing missing teeth. They're the closest restoration to natural teeth—but at a price, especially for multiple teeth. If implants are beyond your current financial ability, there's an older, more affordable option: a removable partial denture (RPD).
Similar in concept to a full denture, a RPD replaces one or more missing teeth on a jaw. It usually consists of a lightweight but sturdy metal frame supporting a resin or plastic base (colored pink to mimic gum tissue). Prosthetic (false) teeth are attached to the base at the locations of the missing teeth. Unlike transitional dentures, RPDs are designed to last for many years.
Although simple in concept, RPDs certainly aren't a "one-size-fits-all" option. To achieve long-term success with an RPD we must first consider the number of missing teeth and where they're located in the jaw. This will dictate the type of layout and construction needed to create a custom RPD.
In addition, we'll need to consider the health and condition of your remaining teeth. This can be important to an RPD's design, especially if we intend to use them to support the RPD during wear. Support is a fundamental concern because we want to prevent the RPD from excessively moving in place.
Besides dental support we'll also need to take into account how the jaws function when they bite. The RPD's design should evenly distribute the forces generated when you eat and chew so as not to create undue pressure on the bony ridges of the jaw upon which the RPD rests. Too much pressure could accelerate bone loss in the jaw, a common issue with dentures.
It takes a lot of planning to create a comfortably-fitting RPD with minimal impact on your dental health. But you'll also have to maintain it to ensure lasting durability. You should clean your RPD daily, as well as brush and floss the rest of your teeth to minimize the chances of developing tooth decay or periodontal (gum) disease. You can further discourage disease-causing bacterial growth by removing them at night while you sleep.
A RPD can be a viable alternative to more expensive restorations. And with the right design and proper care it could serve you and your smile for a long time to come.
If you would like more information on removable partial dentures, please contact us or schedule an appointment for a consultation. You can also learn more about this topic by reading the Dear Doctor magazine article "Removable Partial Dentures."
By Largeman Dental
January 03, 2018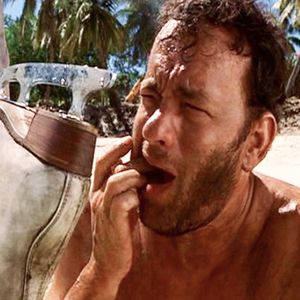 Did you see the move Cast Away starring Tom Hanks? If so, you probably remember the scene where Hanks, stranded on a remote island, knocks out his own abscessed tooth — with an ice skate, no less — to stop the pain. Recently, Dear Doctor TV interviewed Gary Archer, the dental technician who created that special effect and many others.
"They wanted to have an abscess above the tooth with all sorts of gunk and pus and stuff coming out of it," Archer explained. "I met with Tom and I took impressions [of his mouth] and we came up with this wonderful little piece. It just slipped over his own natural teeth." The actor could flick it out with his lower tooth when the time was right during the scene. It ended up looking so real that, as Archer said, "it was not for the easily squeamish!"
That's for sure. But neither is a real abscess, which is an infection that becomes sealed off beneath the gum line. An abscess may result from a trapped piece of food, uncontrolled periodontal (gum) disease, or even an infection deep inside a tooth that has spread to adjacent periodontal tissues. In any case, the condition can cause intense pain due to the pressure that builds up in the pus-filled sac. Prompt treatment is required to relieve the pain, keep the infection from spreading to other areas of the face (or even elsewhere in the body), and prevent tooth loss.
Treatment involves draining the abscess, which usually stops the pain immediately, and then controlling the infection and removing its cause. This may require antibiotics and any of several in-office dental procedures, including gum surgery, a root canal, or a tooth extraction. But if you do have a tooth that can't be saved, we promise we won't remove it with an ice skate!
The best way to prevent an abscess from forming in the first place is to practice conscientious oral hygiene. By brushing your teeth twice each day for two minutes, and flossing at least once a day, you will go a long way towards keeping harmful oral bacteria from thriving in your mouth.
If you have any questions about gum disease or abscesses, please contact us or schedule an appointment for a consultation. You can learn more by reading the Dear Doctor magazine articles "Periodontal (Gum) Abscesses" and "Confusing Tooth Pain."