Posts for: December, 2016
By Largeman Dental
December 29, 2016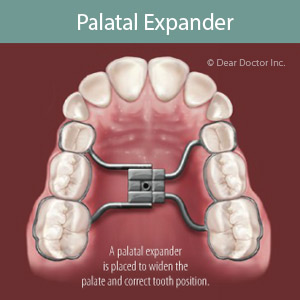 A poor bite (malocclusion) could be more than simply teeth out of alignment. There could be complex causes for the malocclusion, possibly involving the facial bone structure.
An example of this is the development of a cross-bite due to problems with the upper jaw and palate (the roof of the mouth), jointly called the maxilla. The maxilla is in fact formed by two bones fused together in the center of the palate in what's called the midline suture. The suture doesn't completely fuse until after puberty.
Sometimes a maxilla's development doesn't follow a normal track. The upper jaw doesn't widen as it should, which leads to the cross-bite where the upper back teeth abnormally bite inside the lower teeth. The upper front teeth continue to bite normally in front of the lower front teeth. This also can have profound influence on breathing, causing sleep apnea.
We can correct this by using an orthodontic appliance called a palatal expander before the midline suture fuses. The expander gradually widens the upper jaw to its normal width and thus eliminates the cross-bite.
Positioned at the roof of the mouth, the expander has metal arms that extend from a central hinge to exert pressure on the inside of the upper teeth. The patient or a caregiver uses a small key to turn a mechanism that extends the arms toward the teeth a tiny amount each day. This gradually widens the jaw, while at the same time stimulating bone growth at the midline suture. Eventually the gap fills with bone to solidify the new width as the suture fuses.
It's important to undertake this treatment before fusion. If you wait until after puberty, you will need to separate the bones first to attempt it. The overall impact and cost is much less if you act promptly in the early years.
Palatal expansion may not be the right treatment in every case, so we'll need to perform a thorough orthodontic exam first. If, however, we do determine it can help, using an expander can improve function, correct future breathing problems and make possible a more attractive future smile.
If you would like more information on orthodontic treatment options, please contact us or schedule an appointment for a consultation. You can also learn more about this topic by reading the Dear Doctor magazine article "Palatal Expanders: Orthodontics is more than just Moving Teeth."
By Largeman Dental
December 14, 2016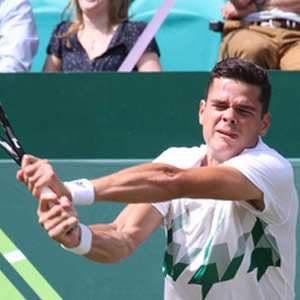 When you're among the top players in your field, you need every advantage to help you stay competitive: Not just the best equipment, but anything else that relieves pain and stress, and allows you to play better. For top-seeded Canadian tennis player Milos Raonic, that extra help came in a somewhat unexpected form: a custom made mouthguard that he wears on the court and off. "[It helps] to not grind my teeth while I play," said the 25-year-old up-and-coming ace. "It just causes stress and headaches sometimes."
Mouthguards are often worn by athletes engaged in sports that carry the risk of dental injury — such as basketball, football, hockey, and some two dozen others; wearing one is a great way to keep your teeth from being seriously injured. But Raonic's mouthguard isn't primarily for safety; it's actually designed to help him solve the problem of teeth grinding, or bruxism. This habitual behavior causes him to unconsciously tense up his jaw, potentially leading to problems with muscles and teeth.
Bruxism is a common issue that's often caused or aggravated by stress. You don't have to be a world-class athlete to suffer from this condition: Everyday anxieties can have the same effect. The behavior is often worsened when you consume stimulating substances, such as alcohol, tobacco, caffeine, and other drugs.
While bruxism affects thousands of people, some don't even suspect they have it. That's because it may occur at any time — even while you're asleep! The powerful jaw muscles that clench and grind teeth together can wear down tooth enamel, and damage both natural teeth and dental work. They can even cause loose teeth! What's more, a clenching and grinding habit can result in pain, headaches and muscle soreness… which can really put you off your game.
There are several ways to relieve the problem of bruxism. Stress reduction is one approach that works in some cases. When it's not enough, a custom made occlusal guard (also called a night guard or mouthguard) provided by our office can make a big difference. "When I don't sleep with it for a night," Raonic said "I can feel my jaw muscles just tense up the next day. I don't sense myself grinding but I can sort of feel that difference the next day."
 An occlusal guard is made from an exact model of your own mouth. It helps to keep your teeth in better alignment and prevent them from coming into contact, so they can't damage each other. It also protects your jaw joints from being stressed by excessive force. Plus, it's secure and comfortable to wear. "I wear it all the time other than when I'm eating, so I got used to it pretty quickly," said Raonic.
Teeth grinding can be a big problem — whether you put on your game face on the court… or at home. If you would like more information about bruxism, contact us or schedule an appointment for a consultation. You can learn more in the Dear Doctor magazine articles "Stress & Tooth Habits" and "When Children Grind Their Teeth."